Rug Cleaning, Rug Treatments & Rug Repair
Oriental rugs lend a certain level of sophistication and elegance. When it comes to rug cleaning, we guarantee our customers the highest professionalism, trust, and low rates.  We are the best choice for savvy homeowners and businesses that want to get their rugs cleaned without overpaying and without any harmful chemical residue.
A1 Sparkles Cleaning is your local Philadelphia Suburbs rug cleaning company for all types of rugs! Whether an old family heirloom or a new designer rug, we clean them all with exceptional care.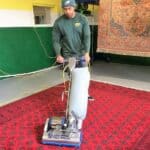 Baluchi Rugs
Chinese Rugs
Moroccan Rugs
Navajo Rugs
Oriental Rugs
Pakistani Rugs
Persian Rugs
Turkish Rugs
Rug Cleaning
A1 Sparkles Exclusive 12-Step Rug Cleaning

Only $2.99

per square foot. Save 20% Drop off and pick up your area rugs at our Rug Spa! 565 W 3rd ST Lansdale, PA 19446
Rug cleaning is performed on a 2-degree slanted floor! Now gravity helps us pull the dirt down and out!
1. Inspection – Every rug is thoroughly inspected.
2. Dusting – Rugs lay flat, facing down,  on 1/2 inch steel grated flooring. The Wolverine rug dusters' leather bands beat and vibrate the dirt out.
3. Vacuum – Using 2- 3 different vacuum machines and a carpet pile lifter, we ensure rugs are dust-free as possible.
4. Washing – Depending on the type of rug, we use horizontal and verticle agitation equipment in one or more of the following methods.;
4A. Full Emersion 4B. Low Moisture 4C. Dry Cleaning
Counter-rotating scrubbers to pull (vertical) and or cylindrical 175 rpm bonnets and brushes (horizontal) with just enough power to deep clean without compromising the rug's pile or structure.  With emersion, cleaning rugs get submerged in 3-5 inches of water. Low moisture requires no more than half of the rug's displacement to be water. Dry rug cleaning could be a dry absorbent compound or an approved dry cleaning solution.
5. Rinsing – With emersion and shampooing in the basin, purified freshwater enters one end, while the dirty water gets pumped out the opposite end. For Shampoo and Low Moisture methods, truck-mount vacuums and 400-800 psi steam rinsing. A second rinse occurs as the rug is hanging. Either purified water is poured on the top of the area rug on down, or truck-mount hand tools spray and extract difficult regions.
6. Specialty Services – Deodorizing, moth treatment, fringe whiting. For pet odor removal, we add enzymes and soak the rug overnight. Rollers, pile lifters, and scrubbers are used to agitate and flex the fibers.
7. Drying – We drop the indoor humidity to desert levels and move warm, clean air through the rugs. A HEPA 500 Dri Eaz Air Scrubber cleans the air.
8. Detailing – Rug brushing and transparent hand tool extraction.
9. Grooming – Brushing the sides, fringe, and hem.
10. Pile Lifting– The most profound vacuum on the planet.! Adds life to your rugs by removing fine dust your Bissel cannot even begin to reach.
11. Inspection – Clean rugs do not leave our facility until they have a fresh fluffy feel and look years younger.
12. Delivery – Clean rugs are wrapped in brown art paper and supporting plastic wrap. For customer pickups, we will load them into your car.  Rug delivery includes light furniture moving and relaying your clean rugs.
Rug Treatments
Anti-Allergen
Odor Control
Fringe Whitening
Rug De-Mothing 
Rug Restoration
Rug Storage
Rug Repairs
New Fringe / Refinge With Existing Fibers
Ends Binding
Ends Salvage
End Serging
Side Salvage
Side Binding
Side Serging
Rug Patching 
Rug Stretching /Blocking
In-House Rug Cleaning

Only $0.99

per square foot
Freshen up only. Will not remove stains, odors, or heavy soil. 
6 Step In-house Rug Freshen Up
Inspection –  Before cleaning, every very rug is thoroughly inspected.
Preparation – Prepare and establish protected areas. Basic furniture moving & tabbing.
Vacuuming – We will vacuum your rug using multiple passes to extract as much dry soil as possible.
Washing – Rugs are preconditioned using a Green Seal Certified Pre-Treatment, hand scrubbed, and our robust 25 hp vacuum extracts deep-down dirt.
Rinsing – Injecting purified water directly into the rug's pile while simultaneously extracting any remaining soil. 
Drying – Using our specially designed green glided wand glide, we will perform multiple dry passes to extract as much water as possible. We then clean around the edges while drying the floor.
If you are interested in professional rug cleaning, rug treatments, and rug repairs, please call 610-292-9069 or complete our online request form.
Latest Articles
Coronavirus Update


The health and safety of everyone in our community come first, and we wanted to share a few updates as they stand during this challenging and rapidly evolving situation

Read More
Spring into a Clean Home


Sparkles of Spring? Finally, there is an end in sight to this long winter! March 20th is the first day of Spring and warm weather is on its way. While everyone is dusting off their warm weather clothing and packing up their sweaters and thick overcoats, our houses are ready to get some much-needed attention, […]

Read More